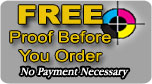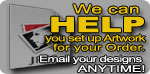 About Us
Cole Industries is located in Akron, Ohio. They are the recent recipients of the 2009 Northeast Ohio Success Award. They have also been named to the Weatherhead 100 list for 2 consecutive years, which showcases the fastest growing companies in Northeast Ohio. In addition, they were named to the Inc 5000 in 2008, this time as one of the fastest growing private companies in America.
They are built on customer service. When you call our offices, you won't get automation! We are here to make your promotions easy. Explore our website, call us or email us and find out what makes Cole Industries an award winning company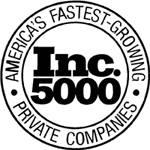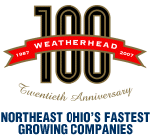 Custom Imprinted Oval and Circle Decals
Kwik-Ship Decals are screen-printed on pressure-sensitive white vinyl or clear polyester. White vinyl is back adhesive only. Clear polyester is available as back adhesive or choose face adhesive for inside window application. Clear decals will be supplied with back adhesive if not specified. Please specify material when ordering.
Imprint Colors: Choose any of our standard colors. Maximum of 3 colors.
Production Time: Approximately 5 Working Days.
OPTIONAL SERVICES:
Color Match: Not available.
Copy/Color Changes: Copy or color changes are available at the combined quantity price plus $34.00 per each change. Copy and color changes cannot be combined on the same order. Item number and material must remain the same on entire order. Each change must be in multiples of 125.
Prices shown include standard art preparation.
No additional charges for screen making or set-up. Our art department will provide basic layout and art preparation using customer-supplied logos and text. Please provide the best possible source materials available. Extensive art preparation may require additional art charges.
Order our Popular Sizes Below!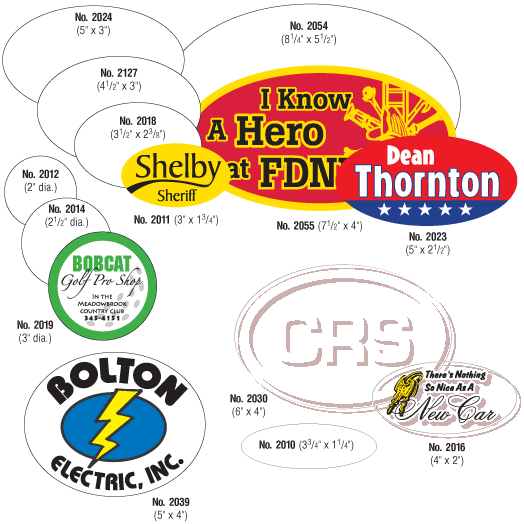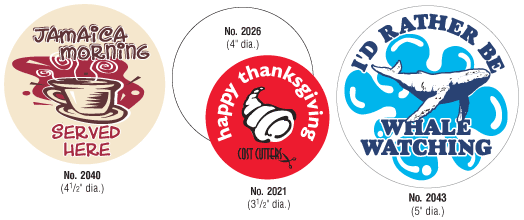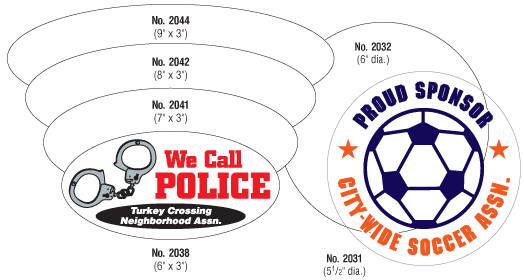 Prices for other decals below! To order, call 800-915-3535!
No. 2010 - 2012
125
250
500
1000
1500
2500
5000
10000
One Color
1.27
.721
.401
.221
.164
.119
.082
.059
Each Add'l Color
.481
.261
.139
.079
.059
.041
.024
.017
No. 2014, No. 2016, No. 2018, No. 2019, No. 2117
One Color
1.37
.755
.415
.235
.176
.122
.087
.066
Each Add'l Color
.562
.301
.154
.087
.067
.045
.027
.021
No. 2021, No. 2023, No. 2024, No. 2026, No. 2127
One Color
1.46
.846
.465
.271
.208
.162
.111
.079
Each Add'l Color
.649
.335
.178
.101
.079
.049
.034
.022
No. 2030
One Color
1.83
1.01
.595
.374
.299
.225
.169
.124
Each Add'l Color
.692
.364
.202
.111
.079
.056
.035
.026
No. 2031, No. 2032
One Color
1.81
.998
.582
.371
.296
.223
.167
.121
Each Add'l Color
.743
.417
.232
.128
.096
.064
.042
.027
No. 2038 - 2044
One Color

1.71

.966
.567
.366
.287
.211
.162
.112
Each Add'l Color
.706
.371
.206
.112
.081
.057
.036
.026
No. 2054, No. 2055
One Color
1.81
.998
.582
.371
.296
.223
.167
.121
Each Add'l Color
.743
.417
.232
.128
.096
.064
.042
.027